Operational Structure
The Company operates eight plants located in Brazil that supply each other, forming an integrated industry for the spinning, weaving, finishing, and fabrication of home textile products. Springs also operates one plant in Argentina.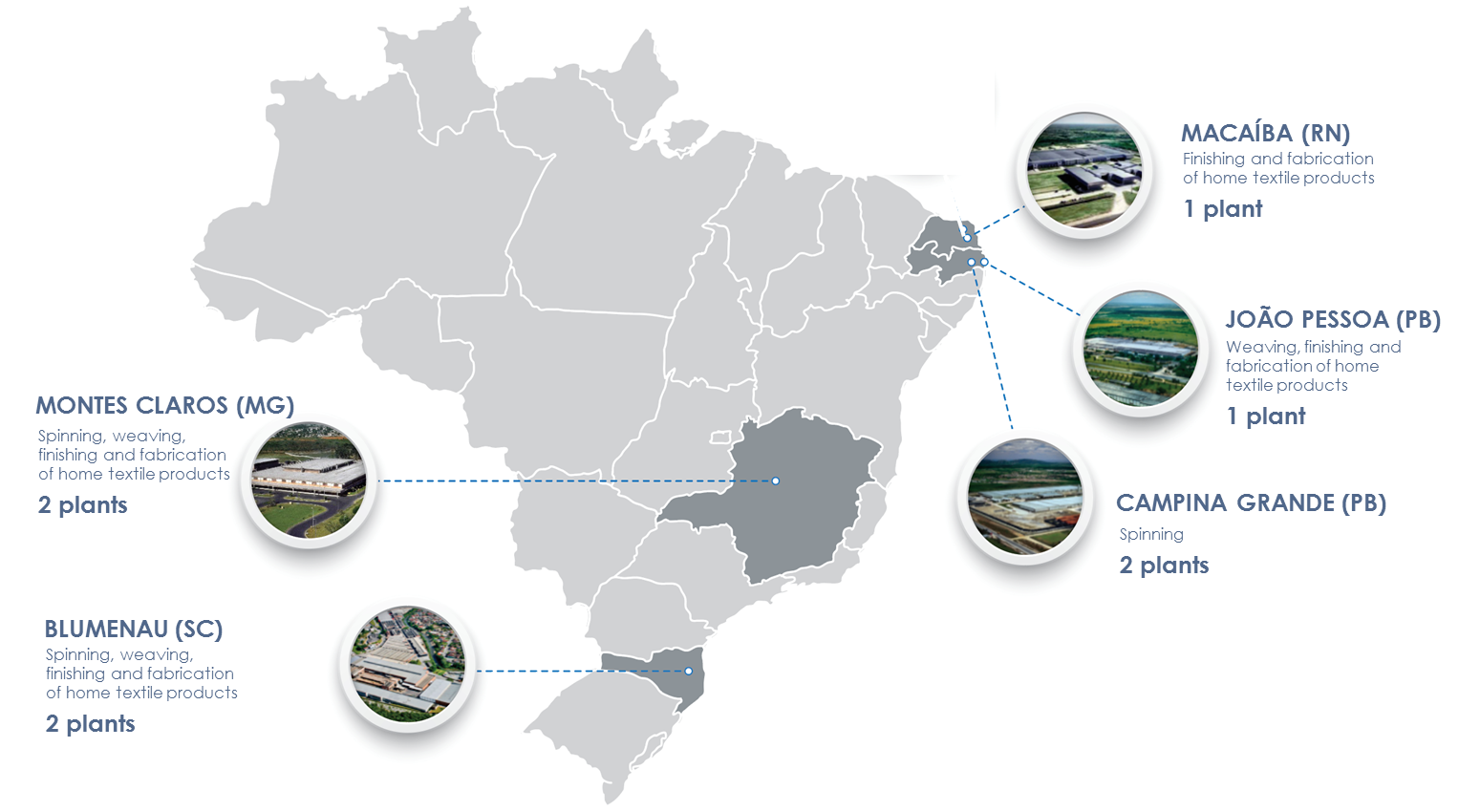 Product Lines
The Company's manufacturing activities are focused in three main segments: bed, bath and table toppings (CAMEBA), Utility Bedding Products and Intermediate Products.
CAMEBA
The Company designs, manufactures and markets a complete line of coordinated products using its portfolio of brands and licenses combined with certain third-party brands, distributed through major retailers located mostly throughout South America. Products include bed sheets and pillowcases, tablecloths, towels, rugs and bath accessories.
Utility Bedding
This product category is represented by pillows, mattress pads, comforters and bedspreads.
Intermediary Products
The Company manufactures and sells yarns, fabrics and textile waste to clients represented mainly by small and medium garment and knitwear companies in Brazil. Additionally, the Company sells natural, dyed and printed fabrics.
Industrial Process
Many of our raw materials are commodities with prices that vary according to the fluctuations in supply and demand. We buy large quantities of cotton, polyester, nylon and latex, as well as large quantities of chemical products like dyes, sodium hydroxide, hydrogen peroxide and packaging material, including cardboard boxes, and vynil plastic packaging.
The two main raw materials used in our manufacturing process are cotton fibers and cut polyester fibers:
Cotton: Our supply of cotton is obtained through supply contracts with more than 80 different suppliers from various parts of Brazil, as well as from international traders based in Switzerland and the United States. In general, our supplies are acquired through futures contracts, by which cotton deliveries are made on scheduled delivery dates.

Polyester: We acquire almost all of our polyester in Brazil. Due to the fact that we continuously acquire polyester throughout the year, and in high volumes, we are able to acquire the product at fairly stable prices, Although polyester prices can be affected by changes in the price of oil, such prices also tend to follow the prices of cotton, with more moderate fluctuations.
The graph below summarizes our production cycle:
Intermediary Products
Yarns: Spinning is the process by which fibers are gathered to create the yarns which are then used in the fabrics. The principal technologies used for production of yarns are ring, open-end (also known as rotor) and air-jets spinning. Open-end spinning is six to nine times more productive than ring spinning, which reduces the cost of production. Air-jet spinning is on average twice as fast as open-en spinning, yet it is less versatile than the open-end technology. Both the open-end and air-jet spinning technologies produce yarns with consistent quality, while ring spinning produces softer yarn.
Fabrics: Weaving is the process of interlacing the yarns for the production of fabric. Weaving consists of introducing the yarn perpendicularly and interlacing a layer ofparallel yarns. Plain fabric undergo a process of dyeing and/or printing and finishing, and then are cut and sewn for the fabrication of consumer products.
CAMEBA
Sheets and Pillowcases: The fabric is sent to a machine that thermally fixes its dimensions, aligns its yarns and improves the touch and texture of the material.Once the production of the fabric is finalized, the process for manufacturing sheets and pillowcases requires cutting, sewing and packaging of the material according to the various technical specifications, based on customers'' requests.
Towels: The yarns may be dyed before weaving, depending on the specifications and designs of the towels. The yarn is then transformed into towel by means of modern high velocity air-jet or rapier looms. Some of these looms are capable of producing jacquard designs, enabling production of considerably sophisticated product patterns. The fabric is then taken to the finishing process where it is bleached by a rope or open bleaching process. The product is then dyed and or printed, washed and finished. Finally, the towels are cut, sewn and packaged according to the specifications and shipped to our customer.
Utility Bedding
Blankets: Blankets that are destined for the institutional market (e.g. hospitals, spas, and hotels) are dyed by a process called VAT, so as to attain more solid colors. Through this process the dye adheres to the fibers by a reduction/oxidation reaction. The product is then cut and sewn according to the technical dimensions and specifications. The blankets are then submitted to additional washing and drying processes to improve their texture.
Pillows: The fibers are received in bales and blended in irder to make them more uniform. After this process, the fibers are processed by a carding process, which sets them into parallel positions, forming a web that is then folded several times and cut into specific sizes. An adequate quantity is then roled up and inserted into the pillow case. The pillow is finalized with stitching in order to be closed.
Comforters and Mattress Pads: Similarly to pillows, then fibers are received in bales and blended for better uniformity. Following this process, they are processed by a carding operation where the fibers are combed, set in parallel and compressed to form the blanket. The blanket is sewn and inserted between the two sides of the comforter or mattress pad, based on the customers' specifications. The cover of the comforter of mattress pad is then sewn and closed.
Distribution Channels
Springs markets its products through two primary sales channels:
Wholesale
The Company's CAMEBA products are sold to multibrand clients through a portfolio of traditional and well-regarded brands, including: Artex and Santista (Brazil), and Arco-Íris, Fantasia and Palette (Argentina).
The main customers in this segment are department stores, mass retailers, as well as small and medium sized shops specialized in CAMEBA products. Springs currently serves more than 10,000 active clients, ensuring it a national commercial footprint and access to many of the increasingly important smaller size cities in the country. The multibrand segment represents Springs' main distribution channel, currently accounting for approximately 80% of sales and the main channel for servicing consumers of more price sensitive market segments.
Spring's relationship with larger size department stores and retailers is undertaken across all levels, ranging from customer service, brand management, product development and merchandising. These support services are complemented by an on-going strategic dialogue with the senior management of these companies.
Overall, Springs has the confidence of retailers and licensors of leading brands. These clients regard the Company as capable of developing and executing the marketing strategies that will help enhance the value and recognition of brands, in a manner consistent with the different segments in which it operates.
Retail
The Company operates stores and / or manages a franchise system under the MMatan and Artex "flags" that virtually guarantees a nationwide coverage.
Each of the Company's single brand systems/flags rely on a specific and well defined operational format, which includes a portfolio of proprietary products and a set of marketing and merchandising strategies aimed at serving different consumer groups.
Casa Moysés and MMartan brands are sold at MMartan stores and Artex brand is sold at Artex stores.
Online Retail
The Company also markets its products through a proprietary e-commerce platform. We have an online store for each brand in Brazil.